Indian Furniture

|

Bone Inlay Furniture

|

Indian Wooden Furniture

|

Furniture from India

|

Industrial Vintage Furniture

|

Reclaimed Wood Furniture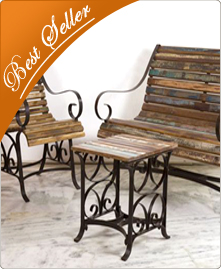 Jodhpur Furniture
Jodhpur, in Rajasthan, is a city blessed with magnificent palaces and forts. It's also often considered as the home of the Indian furniture industry. Jodhpur furniture has garnered worldwide acclaim. Anybody intending to furnish his living room, bedroom or drawing room, can go for Jodhpur furniture. Master craftsmen carve out intricate designs on the pieces of furniture. The pieces liven up the interior of a room that adorns such furniture. The artisans making the furniture are usually involved in the profession for generations. Jodhpur furniture is long lasting, durable and requires only basic maintenance making it look as good as new for centuries.

Wholesaler and Supplier
Shiva Creations is a major wholesaler and supplier of all types of furniture. The range includes wooden furniture, metal furniture and even camel bone inlay furniture. The latter has designs engraved on furniture with white camel bone inlay. Furniture is supplied to all corners of the globe and often wholesaled. Dealers buy the furniture in bulk and resell them to intending buyers. The sales cycle runs in this way. Wholesale purchase makes more sense to large buyers. Besides, channel partners reach the products across the world. Sometimes, independent suppliers also handle the direct sales on behalf of the company within a designated area or region.

Manufacturer and Exporter
Buying Indian furniture from an Indian manufacturer and exporter makes sense to most buyers. The international market extends quality furniture products for suiting the tastes and preference of all types of customers. Shiva Creations is a leading manufacturer and exporter of furniture. In some cases, free delivery and shipping is ensured by the company to the wholesaler or at the buyer's address. The advantage of buying furniture directly from the manufacturer is that you can be assured of the quality. From antique to contemporary, from wooden to wrought iron, almost any furniture can be had of a manufacturer and exporter.

Sheesham furniture
Sheesham furniture is handcrafted from Indian rosewood. The polish and the beautiful smooth quality have made sheesham furniture very popular. Its golden honey color and the darker streaks in grain, has lent the wood an individual and strikingly attractive appearance. The wood has knots and this adds individuality to every piece of sheesham furniture. The knots also make the wood more durable than many of its peers. Besides, the wood is versatile and hence more resilient to the wear and tear of daily life. It's affordable as well. Almost all types of furniture pieces can be made from sheesham wood like tables, chairs, mirror frames, wine racks, sideboards etc.
Client's Testimonials
Francoise - Uttar Pradesh
Have ordered furniture to Shiva Creations. Have provide photo and measurement of each goods. During the process of manufacturing, have received feedback point by point from Pradeep Thanvi, that's have given me the feeling that all my comments was taken in count during the processing.
Read More
Nikhil Banka – Bangalore
From day one I personally liked your confidence on the products got explained, pictures sent and communication that made the deal move smoothly. Really good products and fine delivery! Thank you very much.
Read More
Registered Office
Find out how Shivacreations can help your business leverage to build stronger relationships, realize greater efficiencies, and increase profitability, please use the details provided below to get in touch:
SHIVA CREATIONS
SHIVA CREATIONS H-78 Shastri Nagar, Jodhpur-342003 Rajasthan, India. Email:info@shivacreations.com | Website:http://www.shivacreations.com Cell : + 91 9413521854, +91 9982687924, Tele/Fax: +91 291 2635414
Join The Conversation
Shiva Creation is a community of people who are passionate about design.


For Link Exchange: webmaster@shivacreations.com
Manufacturer & Exporter of Indian Furniture
Copyright © 2013 Shivacreations.com